Answer It, how does it work?
Presentation of the application
Answer It, is a paid surveys mobile application created by the company Selvitys Sondage SARL.
The objective of this application is very simple: To compensate our users for sharing their opinion on new products / services.
How it works: User responds to surveys on the app on the « Survey » page. For each survey completed, the user will earn Answer It points. From 100 points, the user can exchange his points for a € 10 gift card. The user can also choose to save his points to exchange them for gift cards of 20, 50 and 100 €.
Below is a small explanation with screenshots on how the application works :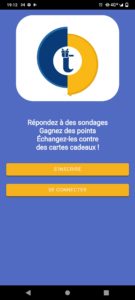 On the Prelogin page, the user has the option of logging in or registering. Here we are going to simulate a connection with our « Test » credentials.
On the login page, the user can log in with Facebook, Gmail or manually. If the user does not yet have an account, he can return to the registration page.
For this example, we will use the following credentials :
email : contact@answer-it.fr
password : 123456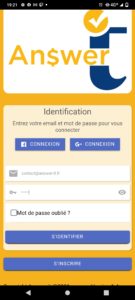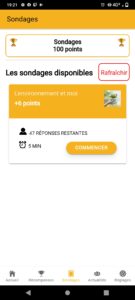 On the polls page, the user can respond to a poll to express their opinion anonymously.
Fourth step : Answer a survey
The user therefore has access to several questions, he must answer the question to move forward in the survey using the arrows.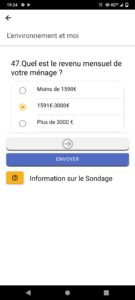 Fifth step : Earned Answer It points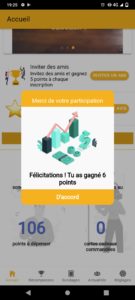 By completing a survey, the user will earn points. He can use these points on the reward page.
Once the user has reached 100 points, they can redeem their points for a € 10 gift card that they can order directly from the app.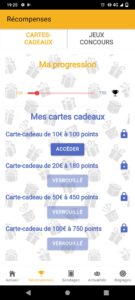 Seventh step: Order your gift card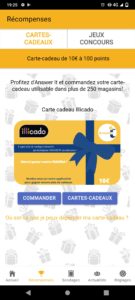 The user then converts his points and receives his gift card by email once our teams have verified that everything is correct.